Vancano's Map Generator | Photoshop actions
8 Photoshop actions | 5 map styles | Random terrain generator | Compatible with Adobe Creative Cloud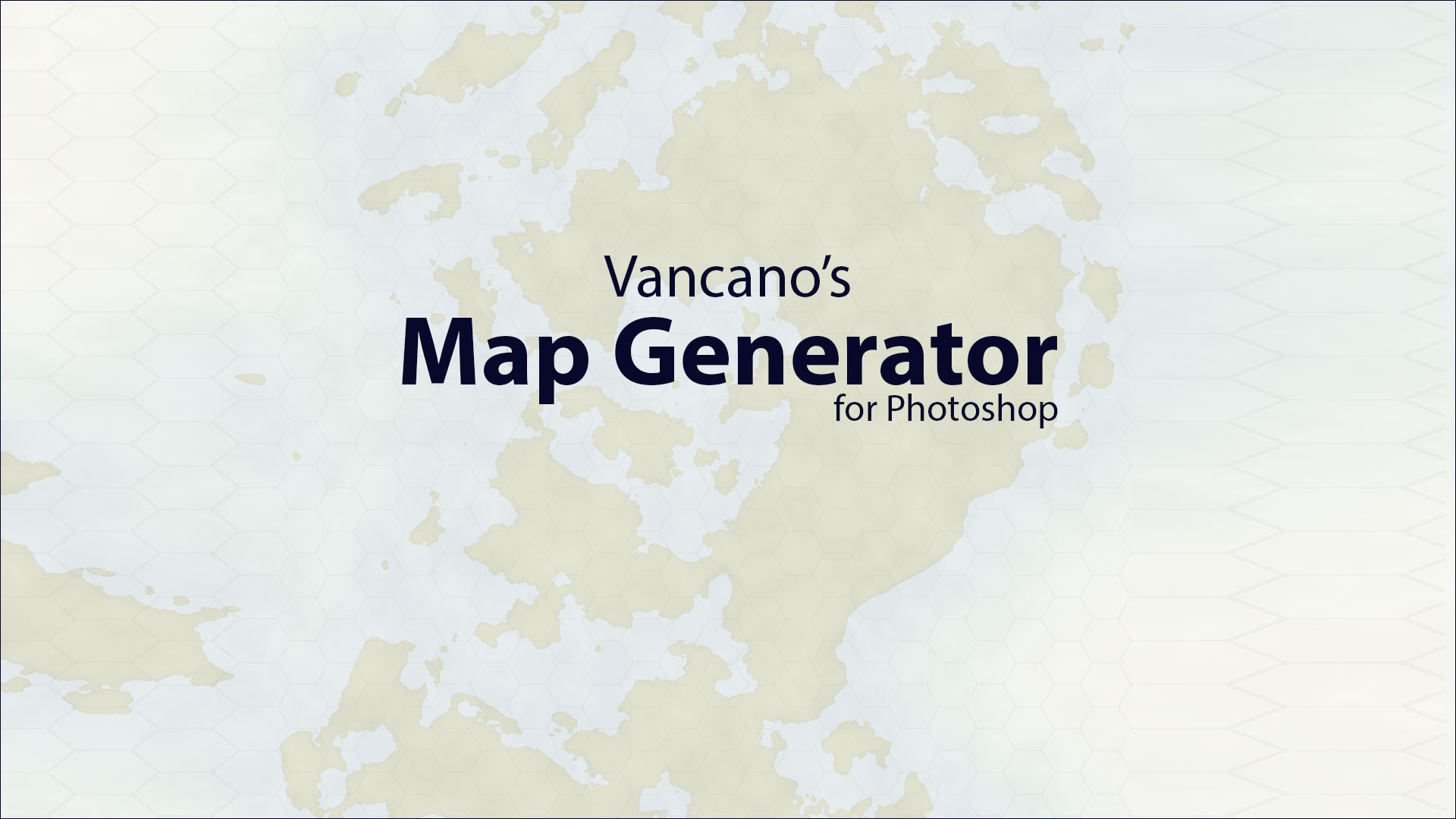 Summary
Vancano's Map Generator is an addon for Photoshop that will add flare and style to your maps in a couple of clicks. Perfect, for those times when you need to deliver high quality client work in a quick turn around.
It can also help you to create unique islands and continents. Or a world map for your homebrew campaign.
Here are the 5 map styles you could soon be making: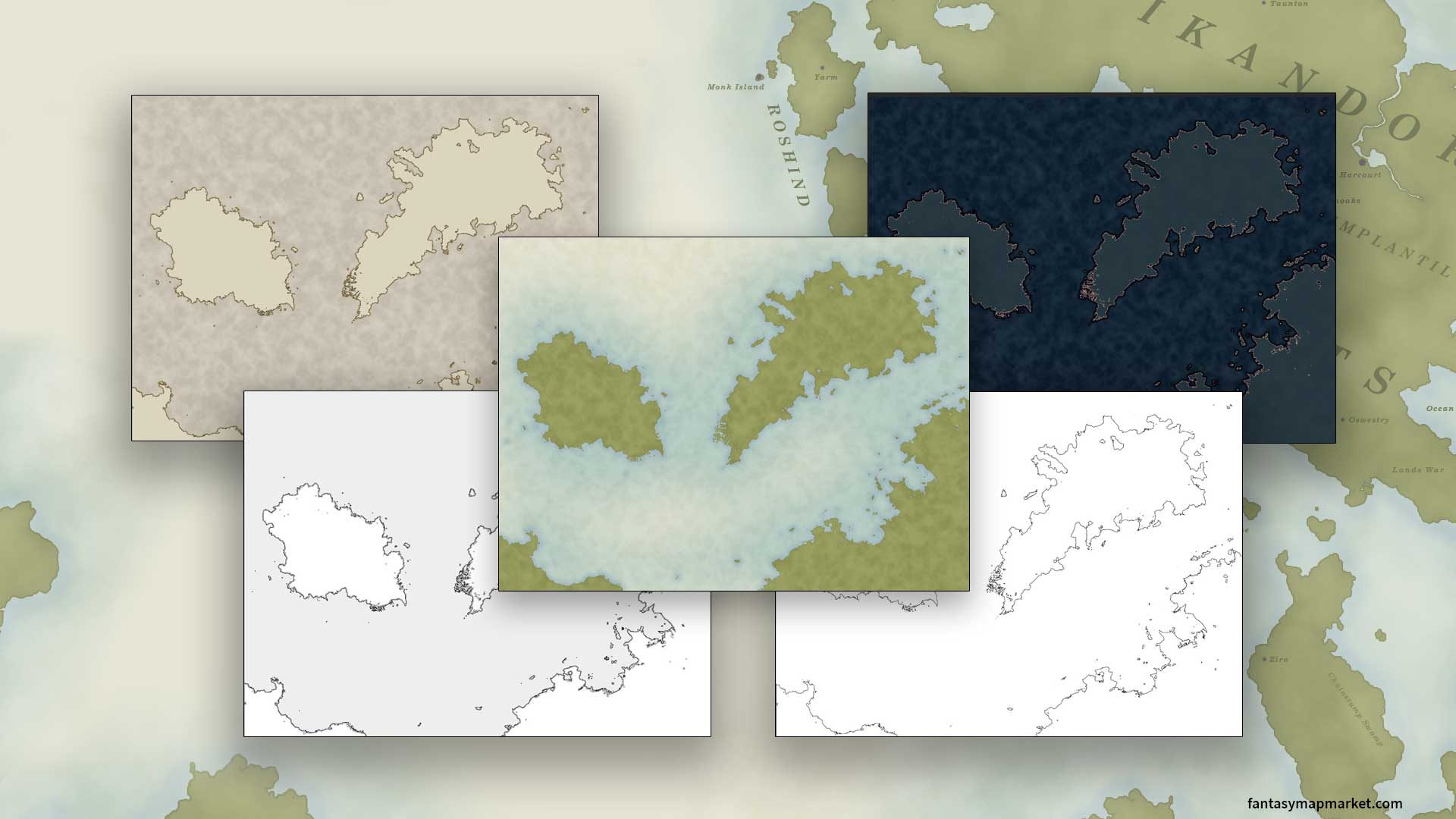 About Vancano's Map Generator
Imagine this.
A few hours from now you're sat at a table with your role playing group; and in their hands they hold the outline of a map you've created. You lean over and begin to share the story of a city on the outskirts of a lake. You talk about trade and the people who live there, as well as a few mischievous characters. Your group are drawn into the story you're telling them. Then you ask "Where would you like to explore next?"
That's the power of a map.
It provides a solid, visual way to draw players into your world. To show them places where they can explore and adventure.
Vancano's Map Generator can help you create that experience. It's a Photoshop plugin that guides you through creating a map using the colours and techniques I use in my own maps.
You don't need to be an artist, the plugin deals with that, all you need is imagination and the ability to paint a block of colour on a page. It's the same skill you learnt as a 4 year old, only this time you don't need to stay inside the lines.
Let me show you a few examples of maps created with Vancano's Map Generator. The kind of maps you could soon be creating yourself:
Authors have the hardest job
We have to work hard to get people to read our stories but it only takes a few seconds for a map of your world to draw attention. In the quick glance of a map your readers will have taken in more of your world than you could show them in a full chapter of your novel.
However, if you're not an artist then drawing a stunning map could prove difficult. That's where Vancano's Map Generator for Photoshop comes in by providing simple tools to create a stunning map.
What's included in the Map Generator?
This bundle includes 5 map styles in the form of Photoshop actions.
The Map Generator for Photoshop also includes the very useful Random Terrain Generator and a tutorial showing you exactly how to use the actions.
The Random Terrain Generator Action
The beauty of this action is that it will generate random terrain for you on any sized canvas. It doesn't matter if you're working at 72 dpi or 300 dpi the Random Terrain Generator (RTG) will generate interesting terrain. The only thing you need to do is use a white brush to paint out any land that you don't want including on your map.
5 Map Styles
Once you have generated your terrain using the RTG then all you need to do is run one of the 5 actions to add a style to the terrain.
Fantasy map style
Aged map style
Simple line map style
Secret Scifi style
Print ready line
Here's a video showing the map styles in action:
The supplied guide also provides instructions for using these styles without the RTG.
Bonus: World Map Typography Action
As a special bonus you'll also receive the "World Map Typography" action. Once you've installed this action all it takes is one click and it will generate a series of typography layers that you can copy and use to label your map.
These typography layers are set the exact settings that I use for labeling my own maps. Using the map generator does take some Photoshop knowledge however I've included a step by step guide that will show you exactly how to use the actions – so even if you're a complete beginner you can still use it.
How Are The Maps Generated?
The Map Generator takes advantage of the Photoshop action feature.
Basically actions are little scripts that you can record to help with performing tasks in Photoshop. You can also export and import them, and so share the action with other people. The Map Generator Bundle consists of 8 of these scrips:
5 map styles.
1 typography.
And The Random Terrain Generator uses 2.
What each script does is it runs through a series of steps that I've pre-recorded into them. These are similar to the steps I would take if I was drawing the map for you myself. However now you can do it as many times as you like by just running the action. The beauty of these actions is that you can create a map in about 10-15 minutes with a few clicks.
Purchase
In order to download this tool you must purchase it at or above the minimum price of £19 GBP. You will get access to the following files:
Vancano's Map Generator.zip - Photoshop actions
8 MB